The Hong Kong Mortgage Corporation Limited
Bauhinia ILBS 1
Bauhinia ILBS 1 Limited acquired a diversified portfolio of project and infrastructure loans across multiple geographies and sectors from the HKMC for an aggregate purchase consideration of US$404.8 million. The Portfolio is diversified across 25 projects among 9 sub-sectors as at the date of the Information Memorandum. The projects underlying the Portfolio are located in 12 countries across the Asia-Pacific, Middle East and the South America regions. The Portfolio has been assembled with a focus on availability-based infrastructure assets in the conventional power and water and social subsectors.
Formal
Notice

Information
Memorandum

Second
Party Opinion

Impact
Reports
Indicative Capital Structure
Class
Rating (Moody's)

1

Principal Amount (USD million)
Spread

2

Legal Maturity Date
A1-SU
Aaa (sf)
100.00
1.60%
19 October 2044
A1
Aaa (sf)
199.60
1.70%
19 October 2044
B
Aa1 (sf)
36.50
2.50%
19 October 2044
C
A2 (sf)
18.25
3.95%
19 October 2044
D
Baa3 (sf)
10.00
5.95%
19 October 2044
Subordinated Notes
Not rated
40.43
6.00%
19 October 2044
1 Original rating at date of closing.
2 Spread is applied over 6-month term SOFR
Portfolio Overview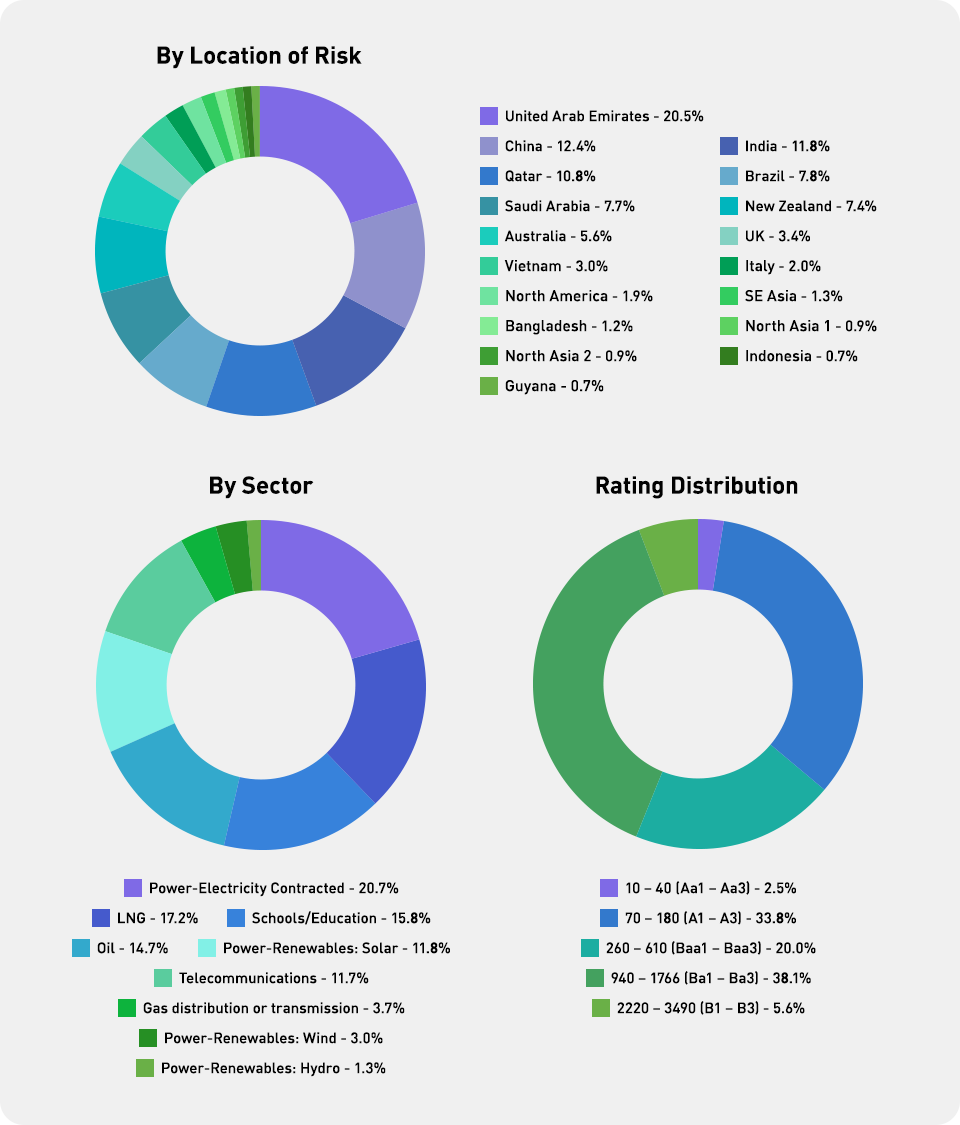 May 30
Moody's New Issue Report

Download PDF
May 30
Moody's rating action

Download PDF
Sponsor and Collateral Manager

Joint Global Coordinators, Joint Bookrunners and Joint Lead Managers
Co-Manager

Transaction Administrator, Trustee, Account Bank, Calculation Agent, Principal Paying Agent, Registrar and Transfer Agent

Legal advisers
Sustainable Finance
Opinion Providers

Pre-issuance sustainability
impact advisor

Rating Agency

Moody's Investors
Service Ltd
Corporate Services Provider

Last Update Date: 31/05/2023